Programs To Educate All Cyclists
PEAC is a 501(c)3 non-profit organization based in Ypsilanti, Michigan and our mission is to empower individuals with disabilities through cycling, active transportation, and self-advocacy education. We believe that biking and alternative modes of transportation play a critical role in increasing community access, fostering social involvement & self-esteem, and promoting healthy lifestyles among individuals with disabilities.  We at PEAC know that everyone can ride.
---
Everyone Can Ride Awards Dinner – 2nd Annual
Please join us on January 21st for the Second Annual Everyone Can Ride Awards Dinner.
Doors open at 6:00 pm, the event starts at 6:30 pm. In the
The Pendleton Room at the Michigan Union (530 S. State Street, Ann Arbor, MI 48109-1308).
Attire is semi-formal.
Awards presented will include:
Top Three Finishers in the Michigan Hand Cycle Racing Series
The 24th Annual Celebration of Cycling Club Challenge Winners: The Wolverine Sports Club
The PEAC Volunteer of the Year
The PEAC Alumni of the Year
The Michigan Cyclist of the Year
If you have any questions, or are interested in sponsorship, please contact Jordan at jordan@bikeprogram.org.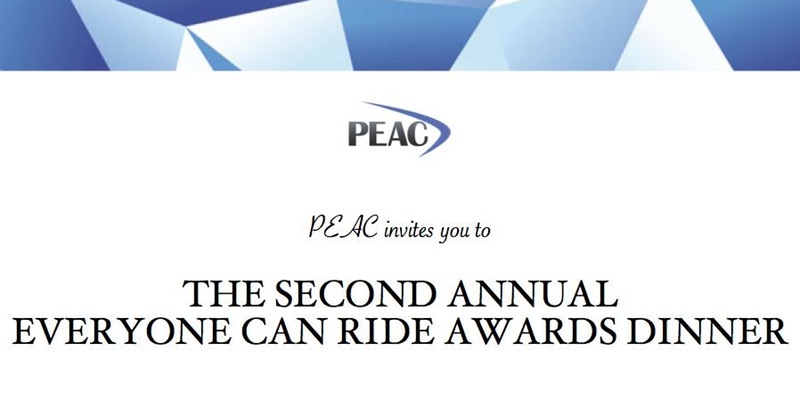 ---
End of Year Giving- Happy Holidays from PEAC
Please consider giving to PEAC. PEAC empowers individuals with disabilities to actively travel in their communities by biking and using public transportation, and to advocate for greater transportation equity.
By giving to PEAC, you will help us continue to empower individuals with disabilities by allowing us to improve and expand our programs.
https://www.crowdrise.com/peacs-end-of-year-giving/fundraiser/PEAC